IP Camera Software For Video Monitoring System – Effective Management Tool
Many businesses, offices and homes have video monitoring system these days, it has gotten so that one of the first things I do upon entering a store is to look up and see if they have CCTV installed. It is a security issue and an IP camera software is a necessity these days.
On the business side, it is not just security, it can be used to managed your business and employees better. Most importantly, it is a cost effective way for management or the business owner to see what is happening within his company. It can also help determine the chain of events in the case of an accident or a crime.
It can even be used for customer service. In my previous company, I have also used the surveillance video to help out our customers in a few instances.
IP Camera Software For Video Monitoring System – Set Up In Minutes
Most people are aware of how effective a video monitoring system can be but for a small business they might find the cost of entry to be too high. You have to buy the IP cameras (or CCTV cameras), the software to operate the cameras, and a digital video recorder (DVR) or a computer to record the surveillance video footage.
In case you are wondering what an IP camera, it is a camera that is you set up in a local network. All networks have an IP address. We commonly call it a CCTV, even though that term might not be accurate.
IP Camera Viewer – Free Download
You can download this video monitoring software for IP cameras for free and set up within minutes. IP Camera Viewer allows you to view live video from your IP cameras on your PC. Over 1,500 camera models are support, so you can use almost any IP camera is to keep an eye on your home, office, parking area or anywhere you need security.
The IP camera software installs to your computer, and you add, configure and manage your cameras. See below for a screenshot.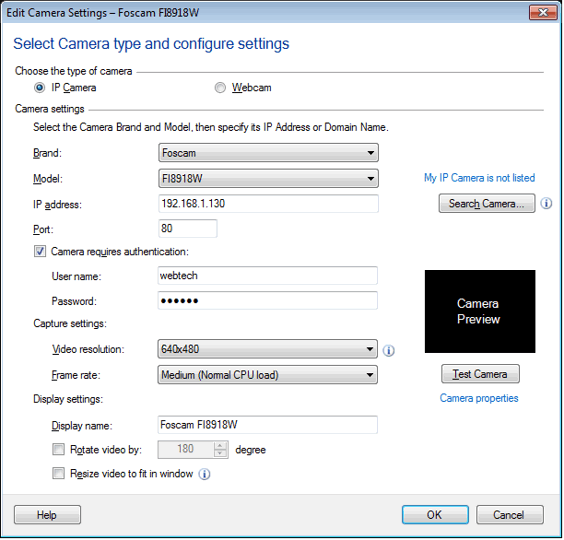 For a free solution, the features are those you would find on most paid video monitoring software with one exception. It does not record to your computer, local drive or network drive. For that you need the WebCam Monitor or Security Monitor Pro.
The software is IP camera viewer, it enables you to hook up your cameras and for that, it does what it says. The more capable software are WebCam Monitor or Security Monitor Pro, both of which costs less than US$100. You could try the free version first and if you like the functionality, fully capable Security Monitor Pro.
For a free software, the IP camera viewer is ideal if you don't need more functionality. You can download the IP camera viewer here.